Hi Guys, I started my build on an "Andrew Davie's Arduino Televisor" today. I am at step 1 of 10,000 or whatever. I thought I would start by drawing up the Nipkow disc as my first step. I download Gary's Nipkow Disc DXF Generator V1.1 and put in these settings
The aspect is 1.3 - I thought I would make the screen a tad wider as it's already really small. Yes, distortion added.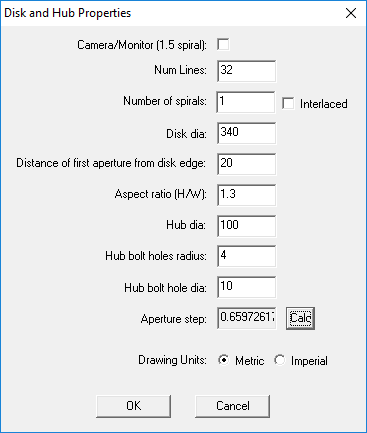 I put it into my cad program Coreldraw and drew some circles over the cross hairs of 3 apertures and put 3 apertures of 0.659mm stacked to see how they would line up, but they don't. Is this an error in the software or do I misunderstand the disc?
Here is a screen shot. The red line(circle) is the aperture to the left and the green line is the one to the right. You can see my yellow rectangles do not line up. Any ideas? I wonder if its a metric issue as it was inches to start off with.